In hopes of getting back to our regular scheduled programming here on Coffee and their Kisses, I've decided to get back into my blog hops. Here's my Five Question Friday.
1. Do you make your kids finish all the food on their plates?
No I don't. I try to get him to eat it all, but I don't push it. I've realized the more I push, the less he wants to eat.
2.
Do you give an allowance?
No, we have a chore chart. He can earn rewards for doing daily chores. He is only 3 after all :)
3. D
o you actually park your car in the garage?
I don't, but my husband does. It's a 2 car garage, but we have the washer and dryer in there. We also have some built storage shelves in the garage as well.
4.
What is one food you will NEVER cook?
I would have to say intestines. I'm just not down with that.
5.
Do you have anything exciting planned for the summer?
Yes, actually. I'm volunteering to help with VBS at our church and Nick will get to come then as well. He's too young unless I volunteer. I loved VBS as a kid, so I hope he loves it too! Also, my two little cousins will be down for 7 weeks.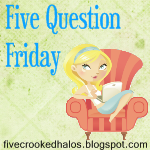 I will be posting about my Vegas trip tomorrow. I have some videos of the concert too. Also coming up is an upholstering project. Keep your eyes peeled!