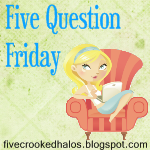 1. Do you think cursive writing is overrated? (Schools in Indiana have now voted to take teaching cursive writing out of their curriculum.) Well, I think all the kids should learn it. I use it a lot, but I don't do it the way the school likes.
2. Do you still use a pocket calendar or notepad or do you keep your info on your smart phone? I rely on my smart phone lol, especially with the app I have for grocery shopping.
3. What 3 things would you save if your house was burning down? (family & pets are already safe) Since the people are safe, I would safe my phone, laptop, and purse.
4. Country Mouse or City Mouse, err Person? Hmm I love the country, but I have gotten used to the convenience of suburban living. I am glad I don't drive 45 minutes to go to a grocery store anymore. I miss the carefree life of country living though.
5. If you could pick ANY reality show to go on, which would you pick? Well let's assume I'm rich as well then. I would like to go on Real Housewives, and in my fantasy world, there's a Real Housewives of Houston. LOL!!!