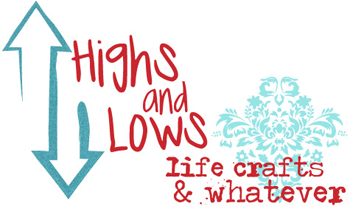 Lows:
*I have my brother in laws dogs, yet again, for supposedly 3 days. He better be back on Thursday or I'm going to flip out. I put them both outside on day 2, when I swept the kitchen and had 3 piles of dogs hair, along with 6 piles of piss to clean up. I stupidly agreed to watch them, because I felt obligated. Next time, my "wonderful" [snort, sarcasm] mother in law can keep them at her and his house. They can piss in their kitchen and make a damn mess of everything. I have too much shit to do, to worry about cleaning up at 2 more damn things. I am pretty pissed about this, can ya tell?
*I got my truck back today, my parents had been using it, now there's a damn hole in the muffler. WTF?? Can I catch a damn break with this car please? On the up side, my dad should be able to fix it with muffler tape. Which is genius by the way, muffler tape?!? I'm sure it's like duct tape haha!
*Bills suck, period! Jason had a little bigger paycheck and between the bills, it's like his check was the same. But, that's what happens when you're a responsible adult right?
*Nick's medicaid ended. I stupidly forgot to renew it, and was thinking I still had some time. I was wrong, and know I have to reapply and wait.
*The little boy's bitch mom got a court date to not only have the guardianship revoked, but to end all communication with us. She also wants all of their stuff, including the bunk beds, since she's renting to own some. Now, my parents would give them all of their stuff, minus those beds. What is that bitch thinking?? They are kids, nothing is really their property. Oh the court date was for September, as the judge had agreed to revisit the case after August of this year. Then she got it pushed up to July 13th. Really?? We live in Texas, the court is in Indiana. My dad works, like a real fucking job where you have to request time off like most responsible people.
*Good news with that July court date is that the lawyer Mom & Dad used last time up in Indiana will be out of town so it has to be rescheduled. She also still hasn't been paid from last year, but is nice enough to do this until they pay her. Also, they are asking that the judge recluse himself as he's a biased [insert choice word here].
*Let's talk about the boy's mom's boyfriend. He seemed to be somewhat normal during the short time I met him. He didn't have a meth face like her, so I was hoping for the best. Here's the wonderful news that I just found out. His roommate, him, and his brother are all part of a Neo Nazi group. How special is that? Best part is, we have proof! So, how funny is it going to be to see that bitch's face in court. Oh, I only wish I could be there to witness it.
On to better things, the Highs:
*I won the Elmer's craft giveaway from Mom Endeavors . Which I'm totally stocked about! Here's what I got:

3 X-ACTO Retract-a-Blade knives,

3 CraftBond Extra Strength Glue Sticks,

3 CraftBond Tape Runners ,

3 Mini Bi-fold 9x12 Foam Board packs ,

1 Painters Markers pack,

1 X-ACTO Decorative Edge Scissors pack ,

1 Circle Cutter ,

1 X-ACTO Self-Healing Mat,

1 Glue Dots pack,

2 Photo Corners packs (various colors),

1 Gel Pens pack, and

1 Tacky Glue bottle.
*I got the paint to do Nick's room! I started today, and got all of the blue done. I just need to exchange the tile grout so I can make the chalkboard paint. I also have to paint the window seat area, doors, and trim. I also have to find hooks to hand his buckets on the chalkboard wall. Nick helped me paint, and so did Mom. Thank god, because I was seriously wondering about my intelligence after 2 coats of paint lol. Also, note that painting textured walls is a bitch! But for a tip, use a dish sponge to go over the popcorn that is still white or whatever color the wall was previously. Nick is super excited about his "new room" and was actually really good while I was painting today.
*I finished my t shirt and hair bows for little Miss Sophie! I participated in the
Handmade Gift Exchange
. I had so much fun making the shirt. I also put the transfer on backwards, but luckily [I guess?] I messed up my dad's shirt first so I knew to mirror the image and re print it. The hair bows were somewhat of a challenge, but then I finally got what my mind wanted my hands to do. I really wanted to hand sew the hair bows to the hair clip, but I couldn't find my needle and thread :/ No worries, they hold up great and look pretty cute if I do say so myself. I've been thinking about starting a shop and selling some like it and the one I made for my dad.
*I finally got started on my laundry!! Woot! I have a basket that so needs to be put up, and a load in the dryer to fold and hang, not to mention the towels that need folded lol. Maybe I'll do that after I write this? Yeah, don't hold your breath. I do need to put another load in the washer though.
*I've actually been home to make supper 2 nights in a row! Summertime is always so crazy busy. Yesterday I made Poor Man's Lasagna, which is delicious. Today I took skinless chicken thighs and legs, marinaded them in Lawry's Season Salt Marinade for a couple hours, then threw them in the Crockpot with some BBQ sauce on high for 2 hours. It was so good, both Nick & Jason had seconds. It was nice to have dinner ready and only worry about the sides, which I did Velveeta Shells and Cheese, baked beans, and mashed potatoes.
*Found out the Jason gets his 36th birthday off, which is Tuesday. He doesn't get the 4th off, but it's okay, it's not the first time or the last time I'm sure. I ordered his present that he wanted today. It's a wallet that will be beneficial to him for work. Now, I need to make his favorite cake that day, Red Velvet, and do something extras special too.
I have babbled on enough. I really should put up all that laundry :/ Thanks for putting up with me!