My kitchen memo board makeover! It's a pretty drastic change, and I took lots of pictures. But, first, here's what you need. Or at least what I used.
-Memo board [of course]
- Krylon Sesame Shimmer Spray paint
- Paint and foam brushes
- Sandpaper
-Old rags
- Cardstock
- Stickers
- Apple Barrel "Caribbean" #2613
- Delta "Light Ivory" #02401
- Folk Art Antiquing Medium "Down Home Brown" #811
- Cork board
- Xacto Knife
- Chalk
- Screwdriver
-Painter's Tape
Seems like a lot of supplies, but I'm covering all the bases here. I promise.
My $5 find at the thrift store, KCM. It's okay, but not what I'm looking for.
So I had this cork board laying around that I bought for like $1. So I took that ugly memo board out and traced around it with the chalk. You were wondering what the heck you needed that for right? You could also buy the cork board to fit, but why not use what I have. Then I got my xacto knife and cut it out. Warning* it has the foulest odor.
After sanding this all down, I used my painter's tape to cover the frame. I wanted to take that boring cork board and make it pretty. I sprayed it with my Sesame Shimmer Spray Paint.
After my cork board dried, I put painter's tape on there so I could paint the frame. It wasn't easy to position the tape and look out for my major fail, coming soon to a blog near you!
Major craft fail here!! I got this Krylon spray paint on clearance, and failed to check under that cap. It was missing the spray part, but I thought I could work with it. Negative! It made a mess and turned out awful.
So after, I don't know, 2 weeks.. I got back on the horse with this. I found a great color that I wanted to paint it. First, it needed a sanding and a primer. I used my Light Ivory to prime it. Yeah, it's not perfect, but it's primer.
So I primed both the bucket and frame. I didn't try to make it even, just cover that old ugly color that I first painted it.
Don't look at the frame, look at the bucket. I forgot to take a picture of both of them with the Caribbean color that I painted them. I love it though and plan on stocking up on more of it!
Next, I got my Antiquing Medium, which I was slightly scared of, and the foam brush. You also want to have that old rag on your lap. You brush some of the antiquing medium on the frame, and then immediately wipe off the excess.
I don't know why I was so scared of it. This stuff works great and I'm in love. Go get ya some! It's only $2.99, which is great to give it a try!
As you can see, there's some of that Ivory showing through. I sanded them both down to add to the "vintage" look that I wanted.
A close up of the sanding, antiquing, painting, and everything else lol!
I put all my hardware back on. I cut some cardstock out and put it in the label. Then I added a "9" sticker, simply because I love the number itself. I also hung some old keys from the hook. It will be in my kitchen very soon. I just need to start actually re-doing the kitchen.
I have some bigger projects in the works, and some stuff I'm itching to do. So what did y'all think? Did you get a good laugh out of my fail? I know I sure did after I cussed and kicked. Happy Tuesday!!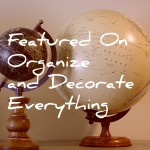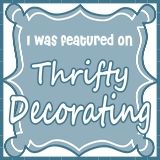 Linking up at: