Flashback Friday
This is Nickalaus at 3 months. My little Colt's fan. Yes, I am a hardcore football lover, and the Colt's are my team. We can trash talk each other when football season starts ;). That's my hand holding him up, lol. A doll baby right? Yup the cuteness just continues with him. What can I say? We don't make ugly babies.
Starting Weight: 190 lbs
Last Weigh In: 175lbs
Current Weight: 175 lbs
Goal Weight: 165 lbs

Total Weight Lost: 15 lbs
Lbs to go for Goal Weight: 10 lbs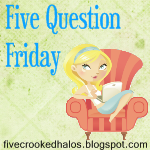 1. If you had to choose, how would you prefer to choose to spend money...on landscaping or a pool? A pool!
2. (Scott likes to get things stirred up...) Death penalty,
yay
or nay?
Yup.
3.
What's the worst thing your kid has gotten into when you turned your back/blogged/showered/blinked?
A dozen & 1/2 of eggs, chocolate syrup, and coffee. All in one morning, I over slept :/
4.
How often do you REALLY go to the dentist?
I haven't been in a long time, and honestly I don't need to that much. I am going next year to get some stuff done. Maybe I'll share it, maybe I won't. I'm self conscious about it.
5. What is your favorite animal (doesn't have to be a pet-type animal)?
Penguins! I love them!!