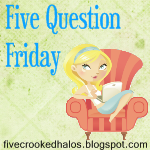 1. Do you apologize to your kids?
Yes - If I'm wrong then I will.
2.

What color are your nails right now?
my fingernails are bare, but I just painted my toe nails pink
3.
When you were growing up, how difficult was it for you to stay home from school sick? (As in, did you have to vomit or just say "I don't feel good".)
It just depends, although I just started skipping when I got older.
4.
When is the last time you bought a new comforter for your bed?
Quite awhile actually. I will be buying a new one once I re-do the room.
Blogger, Twitter, Google Reader, Facebook, Pinterest