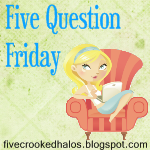 1. Do you and your spouse go to bed at the same time?
No, it's actually very rare if we do. He works different hours, but mostly nights of some sorts.
2. A question for the ladies...What kind of facial hair do you like on your man?
None. I make Jason shave if he get any stubles on his face.
3. What's the worst vacation you've ever taken?
None of them have been horrible. The long road trips with siblings and cousins isn't always fun, but the vacation itself is usually.
4. What's the first-ever blog you followed?
I'm not sure what the first one was, but I know Mommy D's Kitchen was pretty close to the first.