So I started with chipboard letters that I bought at Hobby Lobby for $1.99 each. Not bad, and my last name is short so lucky me :o) My original plan was to cover them with paper using Mod Podge, yeah well that didn't work.
So then I decided to paint them white first, and then blue. Not just any blue, I searched low and high to find a blue to match a piece of scrapbook paper.
I had picked up a creme colored ribbon for $.49 at Michaels.
I cut some strips of ribbon, and they ended up being to long for what I needed so I cut them later. Then, I didn't show this.. but I hot glued the ribbon to the back of the letters.
I hung my letters on the wall. This is where I had to cut the ribbon again to get the right length.
Now my entry was is almost finished. I thought it was finished, but now I want to add something else by the frame. I'm not sure what yet, but I will show yall when I'm done!
I'd love to know if you do or have done something similar. Thanks for reading :o)
Linking up: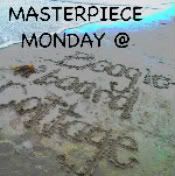 http://todayscreativeblog.net