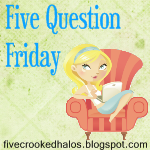 1. If you could buy any car, money not an option, what would it be? As much as I'm not a Ford girl, after having one as a rental... I'd love a Ford Expedition Eddie Baurer Edition.
2. What was your worst first date ever? The douchebag was an hour late and he brought his best friend. Needless to say there wasn't much of a date and we didn't talk again.
3. How old were you when you fell in love for the first time? 17. He was actually my first husband. We grew apart and got married too young. Instead of growing up together, we grew up which led us different directions.
4. When was the last time you reconciled your checkbook? Do people have those still? I don't use checks. We have a debit card and I check the account to make sure there's no weird charges ever day or so.
5.
If you were going to fashion a "Wanted" Ad for a best friend, how would you word it? Wanted: A best friend.
I'm a quirky southern momma of a sour patch kid. I'm not good at math, remembering names, or remember to call back sometimes. I'm understanding, fun loving, and a dork. I love to read, crafts, play with my son, and hang out with my family. I'm in desperate need of friends, lol. I don't get out enough other than with my son. I don't drink, so no cocktails for me. I understand how terrible 2's are and how precious a child is. I'm a good friend and love a good laugh.